OVERVIEW:
Watson Data Platform enables your team to collaborate with confidence, share access to data — no matter where it lives — find new and unexpected insights, and deploy machine-learning models that deliver business-changing results. Using this platform of integrated data and analytics services you can innovate, expand, and modernize your business.

DESIGN TEAM:
Bhavika Shah (Design Manager), Kacie Eberhart (UX/Visual), Noelle Hoffman (Visual), Tom Workman (Front End Developer), Amanda Hughes (Visual), Frances DiMare (Research)
Problem Statement:
Today, working with data is silo-ed. Data professionals work with multiple, non-collaborative tools and publish their findings in multiple locations. In a single large enterprise, you could have two business analysts in different business units needing the same data to analyze. Not only is it hard to find, but once they have access, they have to pull it into multiple to tools for analysis that may or may not work together. The potential to share data or work on the data with integrated analysis tools in a collaborative setting is lost. 
Pain point 1:
There is not one tool/product that provides a seamless end to end experience for data professionals.
Pain point 2:
Data provenance, data gathering, and data cleaning are still the key areas where data professionals feel the most frustration and spend the most time, from finding data to work with in general, figuring out where the data came from and whether or not it is valid, and transforming and cleaning data to be in a workable state.
Pain point 3:
 Data professionals publish to varying locations or only share to their immediate chain of command, there is general repository for sharing findings.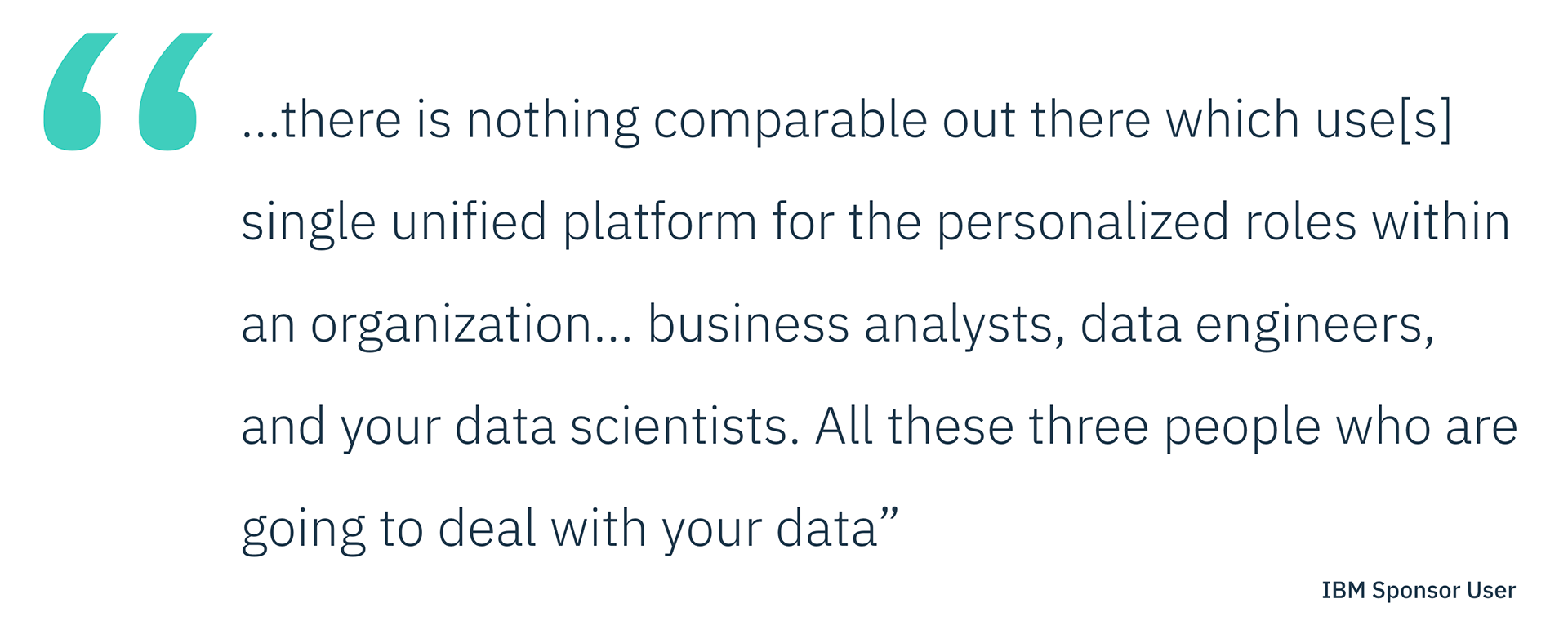 WHO ARE DATA PROFESSIONALS?
Watson Data Platform provides solutions for all users that work with data from storage to governance to analysis. 


Data Engineer: Data engineers are problem solvers. Their role is to design, build, and maintain pipelines so that the company's data can be found, accessed, and used. 
Data Scientist: Data scientists are investigators. Their role is to leverage big data to create and apply algorithms that surface actionable insights for the company to use.
Business Analyst: Business analysts are cultivators. Though technical abilities vary, they use the data, tools, and teams available to them to produce the best actionable business insights for their company. 
Chief Data Office(r): The Chief data office and officer is an emerging role that ensuring an organization's data is governed in such a way that it is compliant with industry regulation and accessible to teams across the company to enable analytics.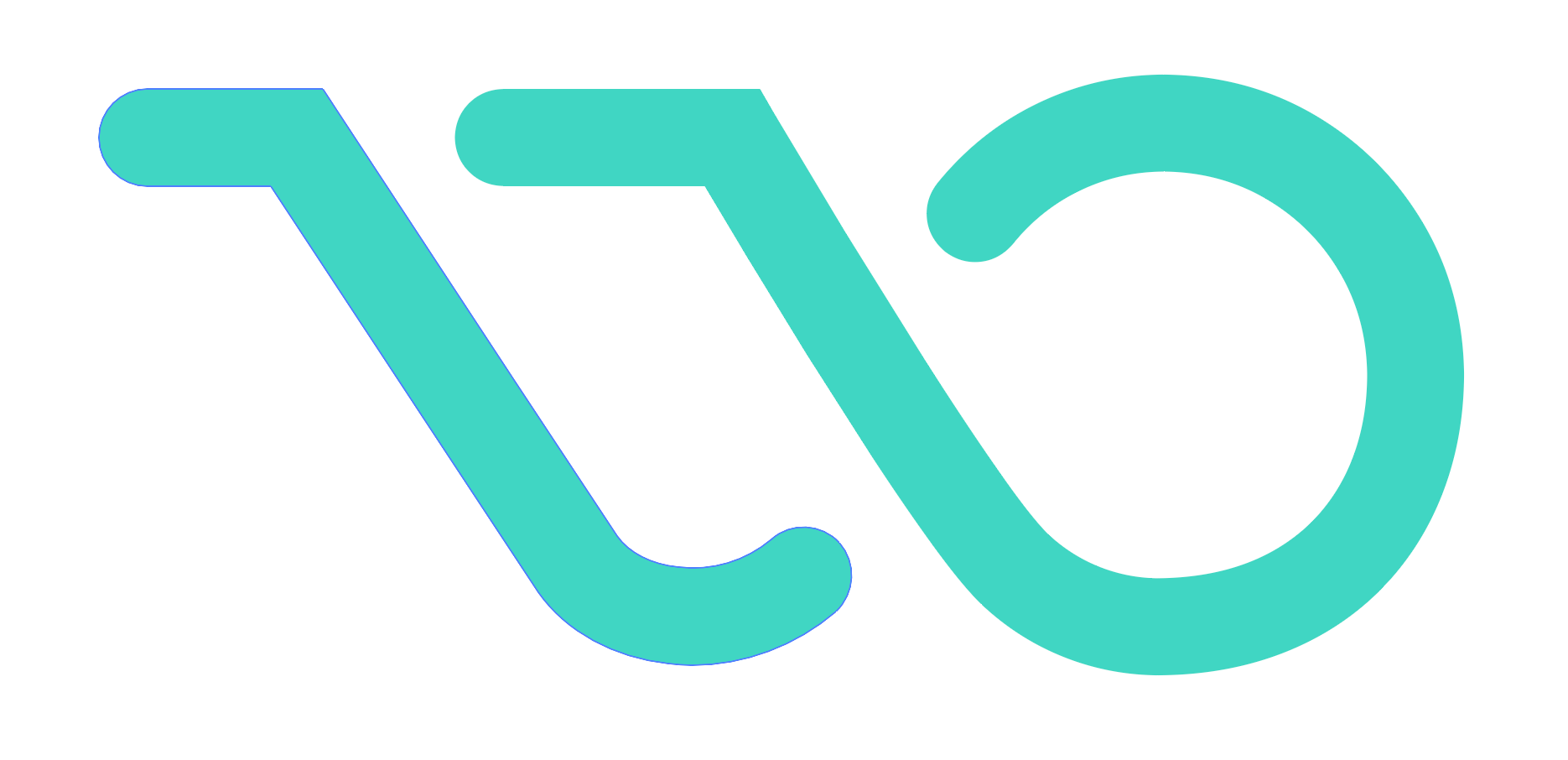 WHAT IS WATSON DATA PLATFORM?
Watson Data Platform (WDP) helps companies build smarter applications and quickly visualize, share, and gain insights from data by three methods:
1. Remove silos: WDP is built around collaboration to allow data professionals work with each other. This helps build confidence between teams, from data scientists to developers, and across technologies from Storage to Analytics.
2. Discover new insights through integrated tools: WDP has integrated data transformation and advanced analytic tools so teams can collaborate and work with data using whatever tools they need in a single place. Gone are the days of loading data in one tool, working, exporting, and then loading into another tool.  
3. Publish to one location: WDP include a data catalog where data professionals can share and access assets across their organization. 

CONNECTING THE TOOLS:
In order to build Watson Data Platform, the design teams and development teams had to come together to create tools that worked with each other. In December 2016, the portfolio had about 20+ products that did not work well together and each with their own UI. While the development team worked on the APIs to get the tools to talk to each other, design had a completely different challenge:
How to unify 20+ UIs? 
In order to overcome this challenge, design began working on 3 applications that bundled the tools– Data Science Experience (DSX), Data Refinery, and Data Catalog. These applications used integration components so the experience and look for all three applications were the same. We did this for 2 reasons: 
1. Don't want to design or build things twice
2. Don't want to have two versions/experiences for the same action 
The Watson Data Platform broader design team consists of over 25+ designers. My team led the work for the integration components working with the design leads and design teams on each application. 
INTEGRATION COMPONENTS:

In order to connect the applications, we designed 4 major experiences that unify the tools– Projects, Catalog, Community, and Data Services– along with creating a unified UX pattern library that all teams contribute to. The 4 major experiences are how users collaborate, work across multiple tools, and connect or access third-party data and storage.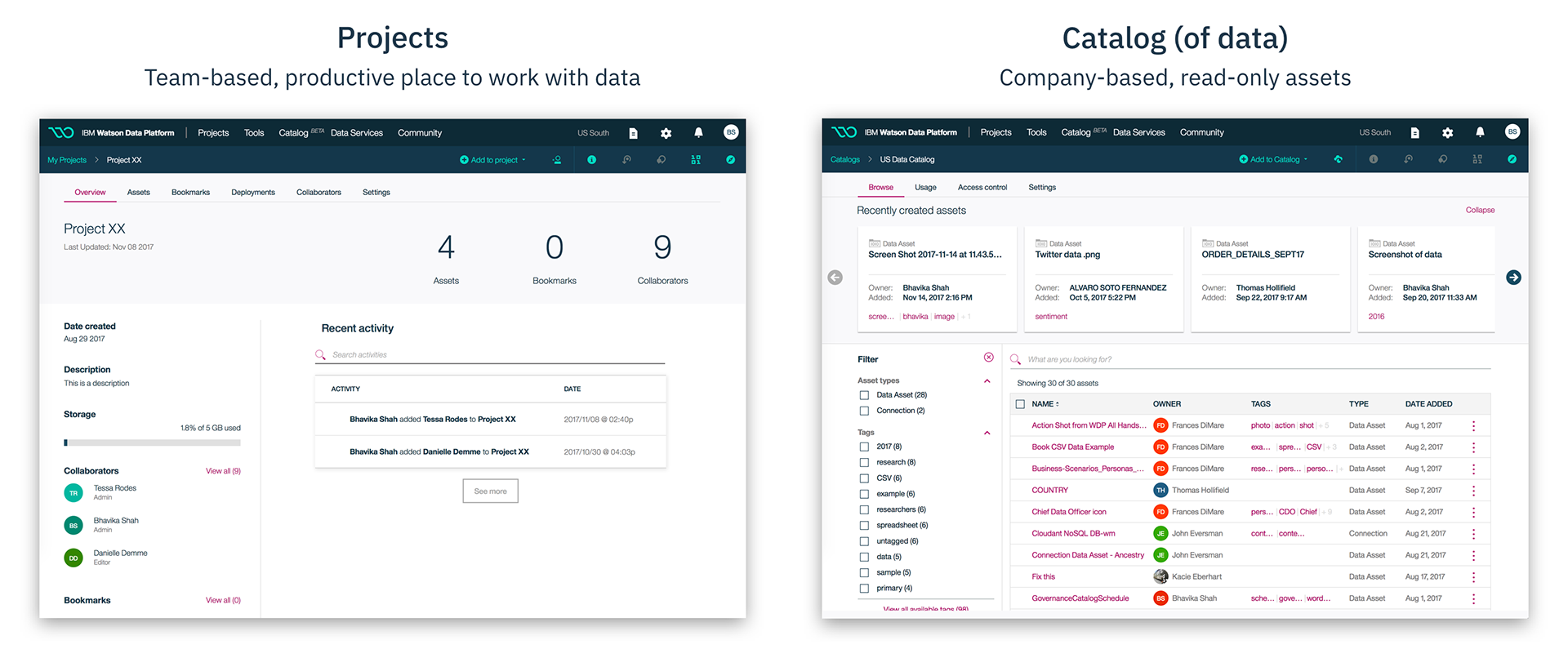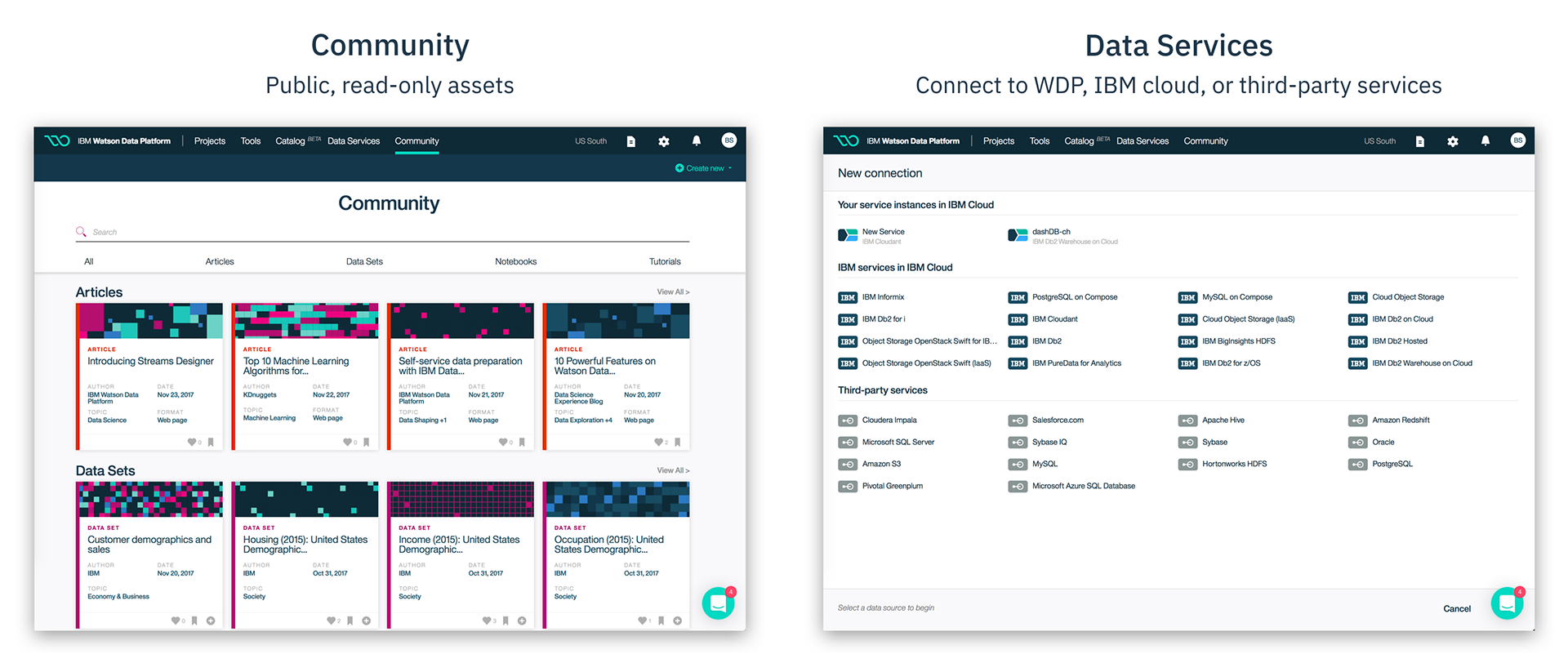 GOING TO GENERAL AVAILABILITY:
Watson Data Platform began in December 2016. By October of 2017 it went beta, and in December 2017 it GA-ed. This aggressive delivery timeline meant that design, development, and offering manager had to work in close communication using agile methods in order to get this done. Designing on the fly, designing with development, designing using only assumption were all challenges we faced. However, by restructuring the way the broader Watson Data Platform team communicates and works together helped overcome these challenges. We were also able to user test the platform UI with 8 major organizations and enterprises in order to get insight into how the platform can be used as a whole.